Whitianga Accommodation Providers
A list of accommodation providers located in Whitianga.
Bed & Breakfast - Self Contained & Serviced - Backpackers
Featured Listings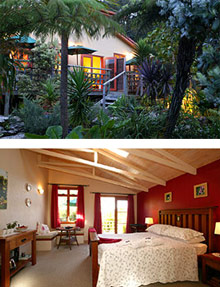 Mussel Bed - Bed and Breakfast -
Nestled amidst native bush, tranquil gardens & streams and yet only 5 minutes walk to beautiful Cooks Beach!
A perfect base to explore Hot Water Beach, Cathedral Cove with the passenger ferry to Whitianga all only a convenient 10 mins drive!
Kayak the stream from our jetty & enjoy the natural bird habitat, exploring caves and walking on gorgeous Lonely Bay. Finish your day unwinding by the fire with a wine from our local vineyard, in the company of fellow travellers.
Bed & Breakfast
Within The Bays B&B

49 Tarapatiki Drive
Whitianga
Ph: 07 866 2848
Fax: 07 866 2849
Email: info@withinthebays.co.nz
Web: www.withinthebays.co.nz
Hosts: Annemarie and Hans Apers

Mussel Bed B&B

Cooks Beach Luxury Accommodation

892 Purangi Road
Cooks Beach
Ph: 07 866 5786
Fax: 07 866 5706
Email: kiwihoppy@xtra.co.nz
Web: www.musselbed.co.nz
Hosts: Chris & Paul Hopkins

On the Beach

Ohuka Farm Lodge

Ohuka Farm Lodge,
Buffalo Beach Rd, Whitianga
Ph: 07 866 2666
Fax: 07 866 2603
Email:welcome@ohukafarmlodge.co.nz
Web: www.ohukafarmlodge.co.nz
Hosts: Charlotte and Jim Mackereth

Kuaotunu Bay Lodge

8 S.H.25 Kuaotunu,
R.D.2 Whitianga
Ph: 07-866 4396
Fax: 07-866 4396
Email: muir@kuaotunubay.co.nz
Web: www.kuaotunubay.co.nz
Mobile: 027-601 3665

Hot Water Beach Bed & Breakfast

48 Pye Place, Hot Water Beach
Ph: 07 866 3991
Freephone: 0800 146889
Email: Tknight@xtra.co.nz
Web: www.hotwaterbedandbreakfast.co.nz
Hosts: Gail and Trevor Knight

Hahei Oceanfront

23 Wigmore Crescent
Hahei, RD1, Whitianga
Ph: (64) 7 866 3199
Email: info@haheioceanfront.co.nz
Web: www.haheioceanfront.co.nz
Hosts: Joe and Raewyn Whitham

Hahei Bed & Breakfast

6 Jackson Place, Hahei
Ph: 07 866 3730, Fax: 07 866 3750
Email: info@haheibandb.co.nz
Web: www.haheibandb.co.nz
Mobile: 0274 998 879
Hosts: Mark Cederman

Flaxhaven Lodge

Ferry Landing Lodge

Bay Adventure B&B 

(formally Dubar Lodge)

At Opito

13 Stewart Place Opito Bay R.D.2, Whitianga 3592
Ph: 07 866 0317, Mobile: 027 418 5588
Email: max-bev@xtra.co.nz
Hosts: Bev & Max
Self Contained & Serviced
Backpackers